[et_pb_section][et_pb_row][et_pb_column type="4_4″][et_pb_text]
Kenya's capital has emerged as an edgy and hip city over the years. Despite being one of the busiest cities in Africa, there are many fun things to do in Nairobi.
Nairobi is a city bustling with art, culture, and development. Interestingly, all these things occur within the vicinity of one of the world's coveted national parks. If you're looking for fun things to do in Nairobi, look no further. Apart from a worthwhile nightlife scene, the city also offers incredible social initiatives.
1. Visit the Nairobi National Park for an iconic wildlife experience
The Nairobi National Park lies on the outskirts of the city. For an exceptional experience, rise early and visit the park before lions go to sleep. People visiting the park are treated to phenomenal sightings of leopards, giraffes, cheetahs, and buffalos. Moreover, it's one of the places to see the endangered black rhino. What makes the park iconic is that you have Nairobi's horizon in the backdrop. Passing by the Park is one of the fun things to do in Nairobi because you come across Zebras and gazelles.
You can access the park using tours and travel companies or private means.
Residents pay $4 while visitors pay $35 as entry fees. For outdoor events, bush dinners, and weddings, you get Impala, historic ivory burning site, King Fisher, and Mokoyiet picnic sites.
2. Feed the giraffes from your palm at the Nairobi Giraffe Center
Nairobi's Giraffe Centre is home to the endangered Rothschild giraffes. The ultimate fun thing to do in Nairobi includes feeding these towering animals from the palm of your hands. Visitors can interact with the animals down on the ground or raised platforms. Additionally, the tour guides give information regarding species staying at the center. With $15, you can stay and watch the animals as long as you want.
3. The Natural wonder tops fun things to do in Nairobi
Did you know the magnificent Great Rift Valley stretches from Lebanon to Mozambique? While leaving the city and headed to the Maasai Mara, you travel along the Great Rift Valley. The icing on the cake is having a hot or cold drink at the wooden shops while enjoying the spectacular views the valley offers.
4. Visit the Maasai market for a shop until you drop experience
Find yourself bargaining for better prices at the Maasai market. Here you'll find all types of African trinkets such as wood carvings, clothes, leather goods, bags, and jewelry. Having negotiation skills that are up to scratch will see you get discounts on items you purchase. For a calm experience, visit the Maasai market at the Galleria Mall, Junction Mall, or Village Market. This experience should be on your bucket list for fun things to do in Nairobi.
5. Have a picnic at Uhuru Park
In Swahili, Uhuru means 'freedom.' Uhuru Park, a popular recreational joint for Nairobians, lies right in the center of town. It offers a variety of fun things to do in Nairobi. People come here to while away. While at independence park you can take photos of birds. At the garden's central axis, there's a small lake and fountain. Uhuru Park provides serenity that leaves you with some sense of leisure, joy, and peace. For a chilled-out weekend afternoon, you can take boat rides with family and friends.
6. Learn Kenyan culture at the Bomas of Kenya
One of the fun things to do in Nairobi is taking a trip to the Bomas of Kenya. Here, you get to learn about Kenya's history and culture. Visitors coming to this place can watch African dance and music performances. Additionally, there are many exhibits on display that tell the country's rich history. The government set up Bomas of Kenya to celebrate and preserve the Kenyan culture.
7. Enjoy both international and local cuisine at Nairobi's many restaurants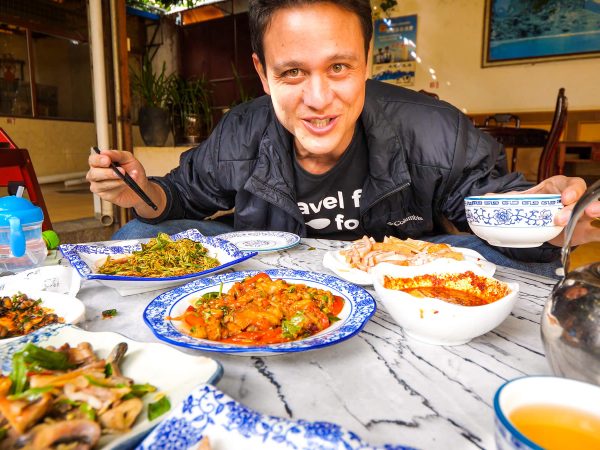 Nairobi has some of the best restaurants in the country. Moreover, they offer a variety of both local and international cuisine. The most exciting and fun thing to do in Nairobi is trying out what different eateries offer. At the Carnivore along Langa'ata road and Fogo Gaucho in Westlands, you get all-you-can-eat deals for $25.
8. Be part of Nairobi's nightlife for an exhilarating experience
When the sun goes down, Kenyans will show you how to party. Nairobi has many places to relax and dance throughout the night. Some of the best joints are along Ngong Road or Westlands. These places have some friendly venues, including The Tavern and Alchemist, which are bars and event places. For an out-of-the-world fun thing to do in Nairobi, visit Brew Bistro and enjoy in-house brewed beer.
9. Visit the Nairobi Elephant orphanage to see baby elephants
Who doesn't love looking at baby elephants? The Sheldrick Wildlife Trust is home to orphaned or abandoned baby elephants. Because the animals are too young to survive on their own, the elephant orphanage takes them in. Once they're old enough, they are released back into the wild.
If you are looking for fun things to do in Nairobi, visit the orphanage from 11 am, and you get to stay for one hour. You can adopt an elephant for an entire year by paying $45.
10. Visit Kazuri beads, a social enterprise in Karen
At Kazuri beads, you get to buy handcrafted beads and pottery. The social enterprise caters to less advantaged women in society. Taking a tour is one fun thing to do in Nairobi. Get to know the women who work there and the inspiration behind their beautiful art.
11. Eat authentic nyama choma at Olepolos
Nothing beats the joy of eating good food. Visiting Olepolos over the weekend or during the holidays is, without a doubt, one of the fun things to do in Nairobi. As you wash down the nyama choma with one of your favorite drinks, enjoy the magnificent Maasai plains view.
12. Enjoy serenity and GP Karting at Whistling Moran
You can never miss fun things to do in Nairobi upon every visit. A few kilometers outside the City lies Whistling Morans. Leave the bustle and hustle of Nairobi and enjoy some karting and serenity at Whistling Morans. There's no better adrenaline weekend experience!
13. Take a trip along the beaten path for fun things to do in Nairobi
Leave the crowded town and go to a local vegetable and fruit market-City Park Hawkers. Wondering along the market pews gives you an experience of Nairobi's daily life. Hidden away from the market are small restaurants serving beans, chapati, nyama choma, and Ugali for the market vendors.
14. Buy a variety of African crafts at Utamaduni
Located within Lang'ata, Utamaduni sells all types of African-inspired fabrics, homeware, and jewelry. One fun thing to do in Nairobi is shopping and getting a place to eat and rest in the garden and restaurant around the site.
15. Take a trip to the Marula Studios and Ocean Sole for beautiful pottery
One fun thing to do in Nairobi is visiting the Marula Studios and Ocean Sole. Both places create artistic and functional products. They also sell belts, bags, clothes, and pottery. There's also a café that holds the Farmer's Market on Saturday from 9 am – 4 pm.
16. Go for a walk at Karura Forest and enjoy the serenity
Karura forest lies near the CBD. If you want to get away from Nairobi's noisy environment, this place will offer much-needed peace. You can do many things, such as horse riding, mountain biking, or tree planting. In the forest, you'll find a beautiful waterfall, which is magnificent to look at.
17. Take the most amazing day trip
A few hours from Nairobi lies the Amboseli National Park. For this visually ideal trip, you require to involve tours and travel companies. Amboseli has the best elephant breed. Visitors always have the opportunity to see hundreds of elephants. On a clear day, you might be lucky to see Kilimanjaro over Tanzania's border.
18. Learn about Karen Blixen Museum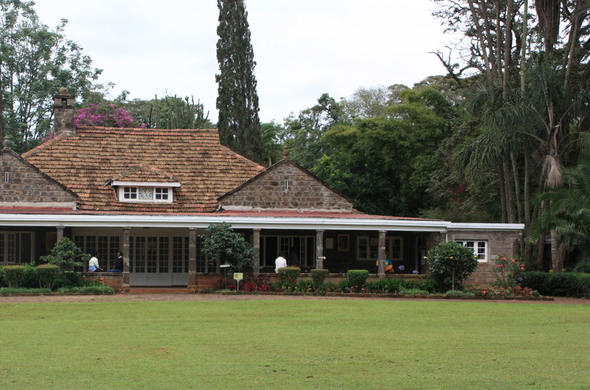 Visit the Karen Blixen Museum located at the foot of Ngong Hills. Karen Blixen was the home of Danish author Out of Africa. A trip to this place gives you insight into Kenya's colonial era.
19. Learn about Kenya's history and traditions at the National museum
The Nairobi National Museum offers a rich heritage of Kenya's history, including art, nature, and culture. As well as the museum, you also find botanical gardens, shops, nature trails, art galleries, and Nairobi Snake Park.
20. Take home a variety of beautiful souvenirs from Wasp &Sprout
Visit Wasp & Sprout for beautiful items like African fabric cushions, crafts, homeware, and beautiful furniture. Apart from the fair trade initiative, you'll also find an all-inclusive café selling desserts, soft drinks, coffees, cocktails, salads, sandwiches, brunch, and breakfast.
21. Enjoy ice skating at Panari Sky Center
Bring out your ice skating expertise and experience speed at the Panari Sky Center. The ice skating rink is not only found at a five-star hotel; it's also a few minutes drive from the airport.
22. Take a visit to the Mamba Village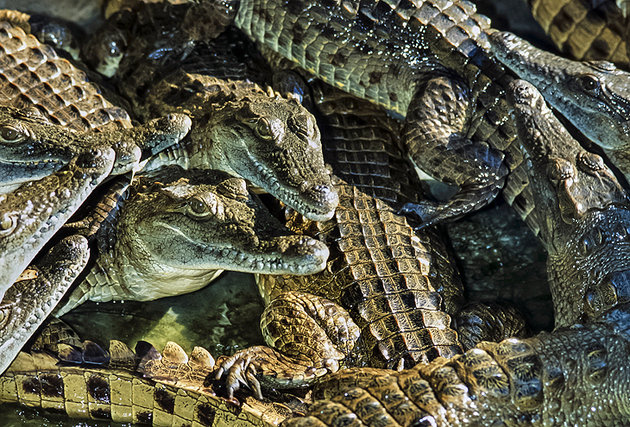 In Swahili, "mamba" means crocodile. At the crocodile sanctuary, you'll find crocodiles feeding and sunbathing. Additionally, visitors get to enjoy the delicious local cuisine the country has to offer.
23. Take in Nairobi's beauty from the top of KICC
Located within the CBD, the Kenyatta International Convention Center is one of Kenya's tallest buildings. You can take a lift up to the top at a small fee. It's a nice place to watch sunsets in the evening as well as viewing the city.
24. Take the kids to the Splash Water World for an enjoyable weekend
If you're wondering about fun things to do in Nairobi, the Splash Water World provides some of the most thrilling and best water slides in the country. Children will have a lovely time worth remembering. Adults, on the other hand, can enjoy local cuisines and beers as the children enjoy themselves.
25. Visit the Butterfly Center
At the Butterfly Center, you get to see different and fantastic butterfly species. The environment is not only serene, but it's also beautiful. After a long trip, you'll find your soft landing here.
If you're wondering why Nairobi is called "The City in the Sun," you now have the answers.
[/et_pb_text][/et_pb_column][/et_pb_row][/et_pb_section]